The land where the olive's oil "Los vergeles de Moraila" is produced, in the core of Tabernas desert (Almeria), is the sunniest place of all Europe. Secondly, It adopts the Italian proverb relating to a good olive's oil: "seco, sasso e sole", that's dry climate conditions, fertile soil and sun.

In that way, "Los Vergeles de Moraila" covers the quality of the yield, which offers its best essence every season. An olive's oil (0'1† acidity) of the finest quality to taste the succulent flavour, an oil made to satisfy the most exigent palates. The aromatic variety and the different tastes of "Los Vergeles de Moraila" leads this oil to a remarkable place among the Mediterranean cooking.

The most fruity flavour is the Arbequino, a greenish and gold coloured olive«s oil. It has a soft aroma similar to the green apple, in fact, It reminds of the fresh aroma of the olive at its best ripeness degree.

The Hojiblanco variety is the certain elegance within a bittersweet taste. You firstly savour a spicy taste, afterwards you relish a delicious aroma based on flowers and herbs that remains inside your palate and mind for a long time.

The stability and nature is suggested by the Picual oil. It is mingled, in this olive's juice, the fruity flavour, the deep bitter taste and some spicy savours. It is a splendid, intense and full-bodied oil.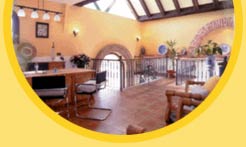 Acidity refers to the proportion of free fatty acids that olive oil contains and is expressed in degrees. One should bear in mind that in the world of olive oil the degree of acidity does not mean an acidic taste, or a more or less intense flavour.
If oil has low acidity this does not mean it is mild or insipid but only that it comes from healthy fruits and has been produced in ideal conditions.

A C I D I T Y